Instructors
Dee Pigman
Joan Armstrong
Beth Fabel
Cheree Roberts
Susan Fletcher
General questions: info1@dogdaysnw.com or call Lee at 360-241-1844
Puppy, Companion Dog, Tricks, and Really Reliable Recall classes: EMAIL DEE or call at 503-807-1212
Connection, Cooperation & Control (CCC), Over-Greeters, Reactive dog classes, and behavior help: EMAIL CHEREE or call at 913-522-7475
Rally Obedience: EMAIL DEE or call at 503-807-1212
Foundations for Performance, Beginner Novice, Loose Leash Walking Classes: EMAIL BETH or call at 360-989-4803
Competition Obedience: EMAIL JOAN
---
deepigman@comcast.net
503-807-1212
Riley, Brody, Dee and Jasmine: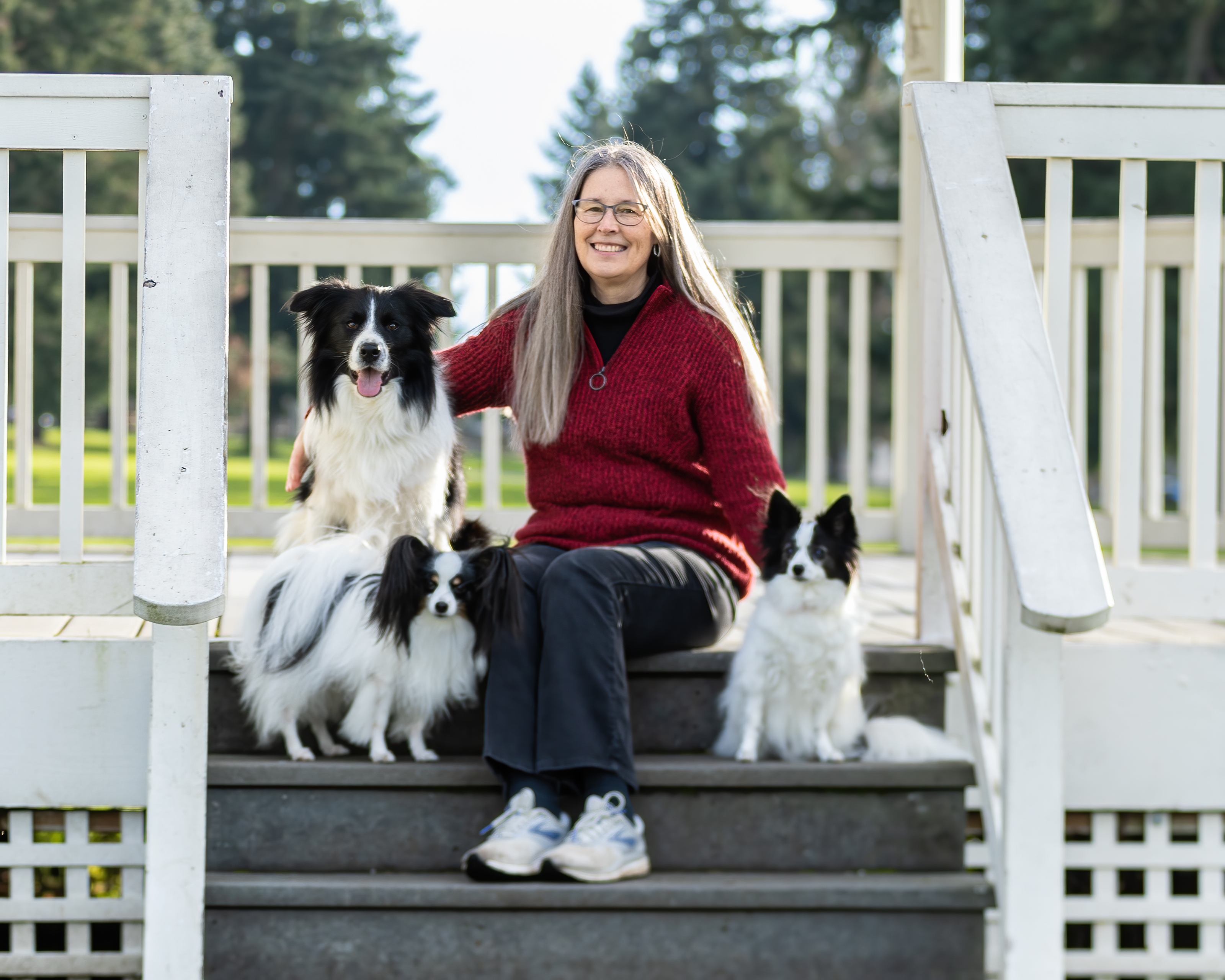 Dee is the new owner of Dog Days as of January 1, 2022!
Dee has been working with dogs and horses all her life. She got her first horse, Cherokee at 13. She then trained and showed several horses in 4-H, Equitation, Trail, Jumping, Halter and Dressage for over 20 years.
She fell in love with Obedience, Rally and agility when she got her first Papillon in 2008. She currently lives with 2 Papillons, Jasmine and Brody. In 2019 a Border Collie named Riley joined her pack. They have earned AKC titles in Obedience, Rally and Agility.
Dee loves learning about dog training and attends seminars and lessons regularly to improve her knowledge and skills. She teaches Really Reliable Recall, Canine Good Citizen, Foundations, Rally, Companion classes and puppy kindergarten. She really enjoys helping others improve their relationships with their dogs. Member - Association of Professional Dog Trainers. Certified - CGC & Tricks Evaluator. In 2022, Dee took over Dog Days Dog Training facility.
---
Joan Armstrong
info1@dogdaysnw.com
Nick, Frannie, Joan, and Q (2002):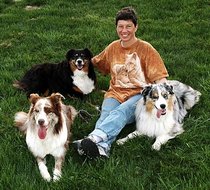 Joan is the founder of Dog Days Dog Training. She has studied learning science, dog behavior, and competition obedience since 1994 with Karen Pryor, Bob and Marian Bailey, Ian Dunbar, Suzanne Clothier, John Rogerson, Sue Sternberg, Patty Ruzzo, Denise Fenzi, Ellie Wyckoff and many others. She has worked with many breeds and mixes from Rotts to Rat Terriers to Pharoah Hounds. Joan specializes in performance sports, especially competition obedience.
Joan is semi-retired now and is still teaching Competition Obedience classes at Dog Days.
Joan loves dog sports and is still actively competing in obedience, rally, and tracking. She's done agility, stock dog, and hunt tests.
Joan teaches competition obedience group classes and private lessons. Member APDT and IAABC.
Joan's dogs: At the Rainbow Bridge watching out for us all: Zoie (our Abuela), Frannie, Nick, and Q.
13 year old Nova Scotia Duck Tolling Retriever Aanya, 9 year old Australian Shepherd Stealth, and 3 year old Australian Shepherd Cosmo.
They have a few titles!
Aussie Frannie: U-UD Copper Canyon's Belle Starr UD TD STDds PT JHD AX AXJ EAC EGC EJC RS-E JV-E GS-E CGC ASCA-TD
Aussie Nick: U-CDX Wind Dance Nick of Time VCD3 EAC EGC EJC RS-O JS-O GS-O ASCA-TDX ASCA-UD
Aussie Q: CH U-OTCH Red Banks Never Say Never VCD2 UDX MX MXJ RE NAP NJP GS-N-OP GS-O RS-O NDD JV-O O-OGC OAC NJC NAP NJP TNN ASCA-TD ASCA-CD
Toller Aanya: Ch JavaHill's Shocking Blue VCD2 PUtD BN RE AX AXJ NF WC TKA
Aussie Stealthy: Baywind's Stealth Bomber VCD3 PUTD BN RE HSAds HXAs AX AXJ OF CGC
ASCA UD TDX BN RS-O GS-E JS-O RNX RAX REX RM STDds
AHBA JHD HRD1
Aussie Cosmo: Baywind's Cosmic Dream from Woodlake BN RI TD TKI ASCA TD
---
beth2112@gmail.com
360-989-4803

Beth, Swiffer, Argos, and Jasper: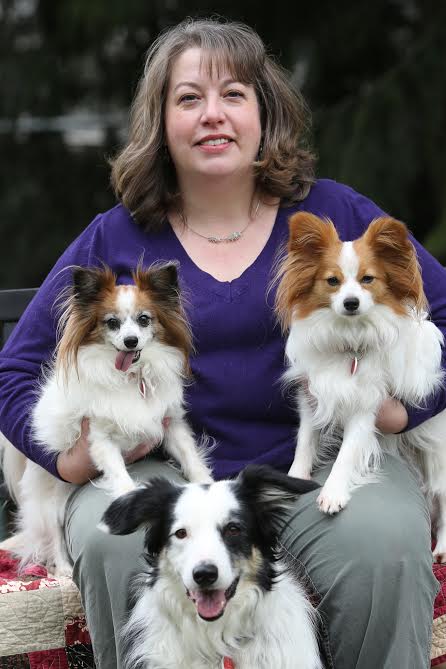 Beth Fabel has been training dogs and their humans since 1992. As a rescue volunteer and an animal shelter worker, she learned that issues with behavior were the number one reason for dogs being given up by their owners and wanted to help change that. Beth's educational background as an occupational therapist gives her a unique perspective of the human end of the team that enhances her skills as a trainer. She enjoys helping people learn to communicate with their dogs and enjoy a more fulfilling and interactive relationship with them. She is an expert at finding humor in our lives with dogs.

Beth has trained and titled several varied breeds in obedience and agility and also participates in herding, tracking and K9 Nosework. As an active trainer and competitor in dog sports, she works year round with her own dogs and regularly attends seminars and workshops to exchange ideas and further her education.

Beth teaches the Fundamentals for Performance and Beginner Novice Competition Obedience classes.
---
Cheree Roberts CPDT-KA, CCC-C1, CCUI

breaktimepc@gmail.com
913-522-7475

Cheree with Django and Klia: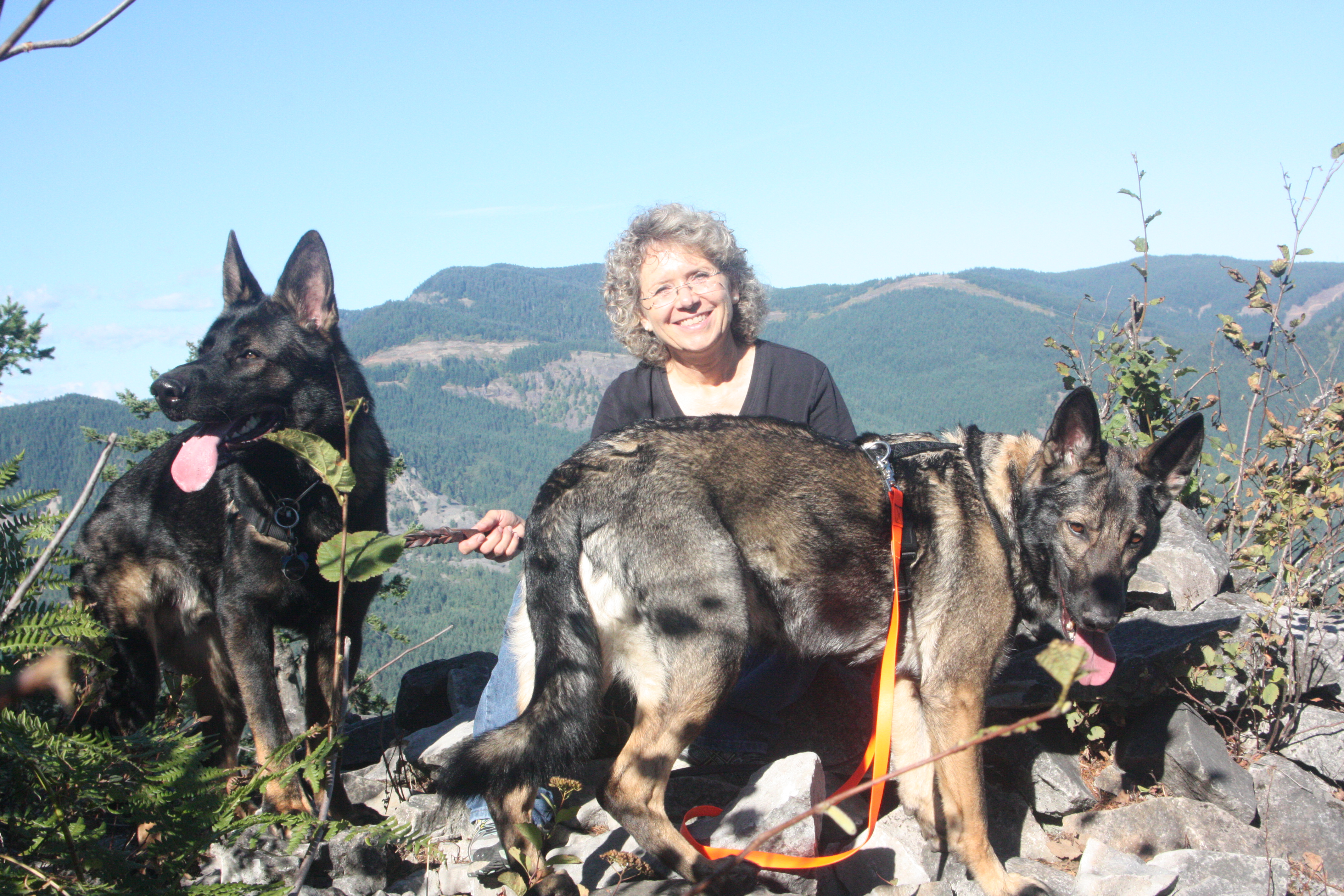 Cheree has always had a deep love for animals. Her career with them includes 15 years at the Kansas City Zoo. While there, she supervised hospital and quarantine personnel, assisted the lead veterinarian in all procedures and hand reared numerous animals across a wide range of native and exotic species.

After moving to Washington in 2008 she began training with Joan Armstrong. She enjoys participating in competition obedience, rally, tracking and nose work with her two German Shepherds. Cheree is a Karen Pryor Puppy Start Right instructor graduate, a certified professional dog trainer (CPDT-KA), a certified instructor for CCC, and a certified Control Unleashed instructor. She continues to expand her knowledge and love of dogs by attending seminars in training and behavior.

Cheree teaches Connection, Cooperation & Control (CCC), Over-Greeters, Puppy K, Companion Dog classes, and reactive dog classes.
---
Many thanks to the amazing Bob Bailey